Gualupe Santos



Full Name

Gualupe Santos

Aliases

Lupe

Family

Age

12

Gender

Female

Birth-Date

February 3rd
Personal

Height

No information

Weight

No information

Blood Type

No information

Occupation

Student

Hair

Below shoulder length
Jet black with purple tints

Eye

Brown with purple tint

Favorite Food

Pumpkin pie

Least Favorite Food

Spinach
Family

Parents

Siblings

Pam (sister)
Gualupe "Lupe" Santos is a quirky, unpredictable and very pretty 12-year-old 7th grader at Hazelnut Middle School. She is best friends with
Milo Johnson
and
Nicky Fitzgerald
. Her mother is
Lydia Santos
, Her father is
Charles Santos
and she has a tomboyishly adopted little sister named
Pam
. Her grandma is Miss Chism. She often has elaborate fantasy sequences in which her reflection acts as her conscience during moral dilemmas. Gualupe has a crush on Craig Bean.
Apperance
Edit
She has dark brown with purple highlighted hair and wears red cross hair-clips and she is dressed in gothic/punk rock style clothes. She also has brown eyes, but wears purple contacts.
Personality
Edit
She is a tomboyish goth girl who hates dresses.
Gualupe is "river of black stones". 
It is also of English origin, where its meaning is "river of the wolf".
Lupe is a 12yr old orphan who lives in a mansion which some people say is hunted.
Childhood
Edit
When she was a kid, her parents died in a car accident along with her newborn sister. A year after her families death, Lupe starts to have nightmares abour the incident until one day a baby that looked like her dead baby sister comes on her doorstep.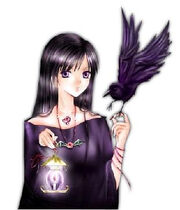 Ad blocker interference detected!
Wikia is a free-to-use site that makes money from advertising. We have a modified experience for viewers using ad blockers

Wikia is not accessible if you've made further modifications. Remove the custom ad blocker rule(s) and the page will load as expected.